Your HIFI Equipment Buy & Sell Paradise In Malaysia, Totally free of charges 马来西亚音响的买卖天地!
Thursday, 26 April 2018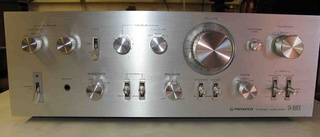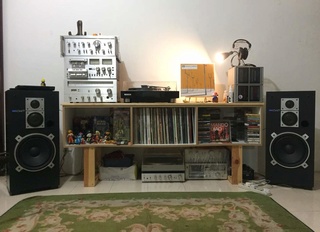 Pioneer SA-8500 II Integrated Amplifier
Condition 7/10
Asking price RM1800 (Item at KL)
Contact +60179157782
Posted by

lup
at 13:38
No comments:


Wednesday, 25 April 2018
Selling Muse Model 18 subwoofer ( 10" long-throw woofers x 2pcs ) very suitable for Ls3/5a / B&W / Pro Ac user. (RARE IN 2ND MARKET)
Muse 18 Subwoofer
The Muse Model 18 subwoofer is an exceptional product worthy of my highest recommendation. It has forever changed my standards of low-frequency reproduction. Quite apart from its ability to reproduce the lowermost frequencies with an effortless authority, its dynamic agility and superb resolution of textures and pitch, what really makes it special is how easily it disappears into the music, never becoming obtrusive or sounding like a subwoofer.
I suspect that if the Model 18 can integrate so well with the hales syetem two and system 2 sig it will work with many other loudspeakers. The two Hales models, with their tight, precise bass, presented the Model 18 with a tough integration challenge. If the Model 18 weren't up to their standards, the transition between them would have been thrown into sharp relief. (I didn't audition the Model 18 with planar loudspeakers, however, which can be more difficult to integrate with a subwoofer.)
Further, the Model 18's electronics are clean, transparent, and didn't add veiling, glare, or hash to the presentation. In fact, many aspects of mid and treble reproduction improved after adding the Model 18, especially soundstaging and resolution of image outlines. The trace of hardness the Model 18 added was more than compensated for, in my opinion, by its improvements in other areas.
A question raised—and answered—during this review was of the importance of bass extension in conveying the musical experience. Quite apart from Telarc cannon shots, sonic booms, jet takeoffs, and other dubious reasons to buy a subwoofer, there is something about bass extension—when done right—that opens up a whole new musical vista. To feel the full measure of the music without the distracting and unmusical side effects is an experience I may never be able to live without.
If you're in the market for a subwoofer, audition the Muse Model 18—but be prepared to be dissatisfied with anything less.
Description: Powered monophonic slot-loaded subwoofer. Drivers: two 10" long-throw woofers. Alignment: 6th-order. Internal amplifier power: 225W. High-pass filter type: 4th-order passive with active buffers. High-pass gain: unity, with 100 ohm output impedance. Maximum high-pass output level: 10V RMS. High-pass –3dB point: default at 50Hz, selectable with different "personality cards." Low-pass –3dB point: default of 50Hz, selectable with different "personality cards." Controls: 3: level, damping, and delay. System –3dB point: 18–25Hz depending on damping control setting. Acoustic output: capable of 109dB at 1m from 18Hz to low-pass cutoff frequency.
Dimensions: 25" on a side. Weight: 155 lbs.
Finish: clear oak, other finishes available on request.
Asking : RM6800.00
Please contact / whatsapp +60 16 800 8896 Mr Tan for more info.
Thank You
GOOD LUCK!
Posted by

Vintageguys
at 21:12
No comments:


Tuesday, 24 April 2018
Selling 1 Pair NBS Balance XLR interconnect 1Meter in good condition with original packing.
Asking :SOLD!
Please call Whatsapp to +60 16 800 8896 Mr Tan for more info.
Thank You
GOOD LUCK!
Posted by

Vintageguys
at 09:04
No comments: